The Paper Map
Nancy insisted I try it.
I didn't want to, but when you travel you're supposed to try new things, right?
I handed her back the paper map (the free one we got from the rental shop) and we switched places. This time I would be driving the scooter and she would be the passenger. It was too hot to bother fussing about it.
Nancy and I were in the middle of a dirt road between Göreme and Uçhisar holding a paper map that was drawn by someone's friend and not a cartographer. If we got lost, we at least knew where we rented our scooter. It was placed on the map in an unfinished web of thick black lines connecting towns — Çavuşin, Ürgüp, Uçhisar, Avanos, Nevşehir, Göreme — without any indication of the distance between each.
It was our only navigation.
Nancy was in Turkey for a good reason: she wanted to live and learn in a foreign land. I was there with more selfish objectives: why not earn college credit while vacationing in my motherland? In full disclosure, I'm only part Turkish and I felt like a foreigner trying to drive this scooter.
It was summer in 2007. A study abroad program landed us both in the same school located on the shores of İstanbul. Nancy was in a room on the floor beneath mine. We didn't have cell phones, so we'd gather in big circles every night and lay the groundwork for great adventures: have you heard of a place called Kars? Wasn't that in a book I read? How do you say "Çesme?" Is it better to go by plane or bus to Cappadocia?
We took the plane there and the bus back.
Cappadocia is an ancient region almost in the center of modern Turkey (or Anatolia as the landmass is called).
It was one of the many settlements of the region at various times under Persian, Greek, European, Seljuk, Armenian, Byzantine, Ottoman, and Roman rule.
The rocks of Cappadocia twist and turn from the ground in thick stalks. It looks like somebody took an enormous, ancient cave and decided to flip it upside down and expose it to the sky. People have managed to call this rough terrain home for millennia.
As I turned the ignition switch and maneuvered the scooter, the summer sun ran across our faces and heads heating everything it touched. Within ten seconds I had managed to drive the scooter sideways dragging both of us on the ground.
We switched spots. Nancy would drive the scooter for the rest of the trip.
The cheap paper map took us from town to town. We didn't know the difference between any of them. We asked locals and tried to guess which town had the most cave dwellings, underground churches, or fairy chimneys. The fairy chimneys are the famous rock formations (peri bacaları in Turkish) that seem about to collapse under their own mushroom shaped stones.
The rocks of Cappadocia twist and turn from the ground in thick stalks
After our first day of getting lost, we considered ourselves experts on the area. Each of the towns in the region of Cappadocia are close enough that it did not bother Nancy and me when we went in circles seeing the same blue and white signs posted on the road.
And that was exactly why I can never forget Cappadocia. We got lost all the time. We did not know where the best spots were. We had no list of restaurants to eat at or shops to discover. We were unprepared and uneducated on the area.
In other words: I would do it all over again.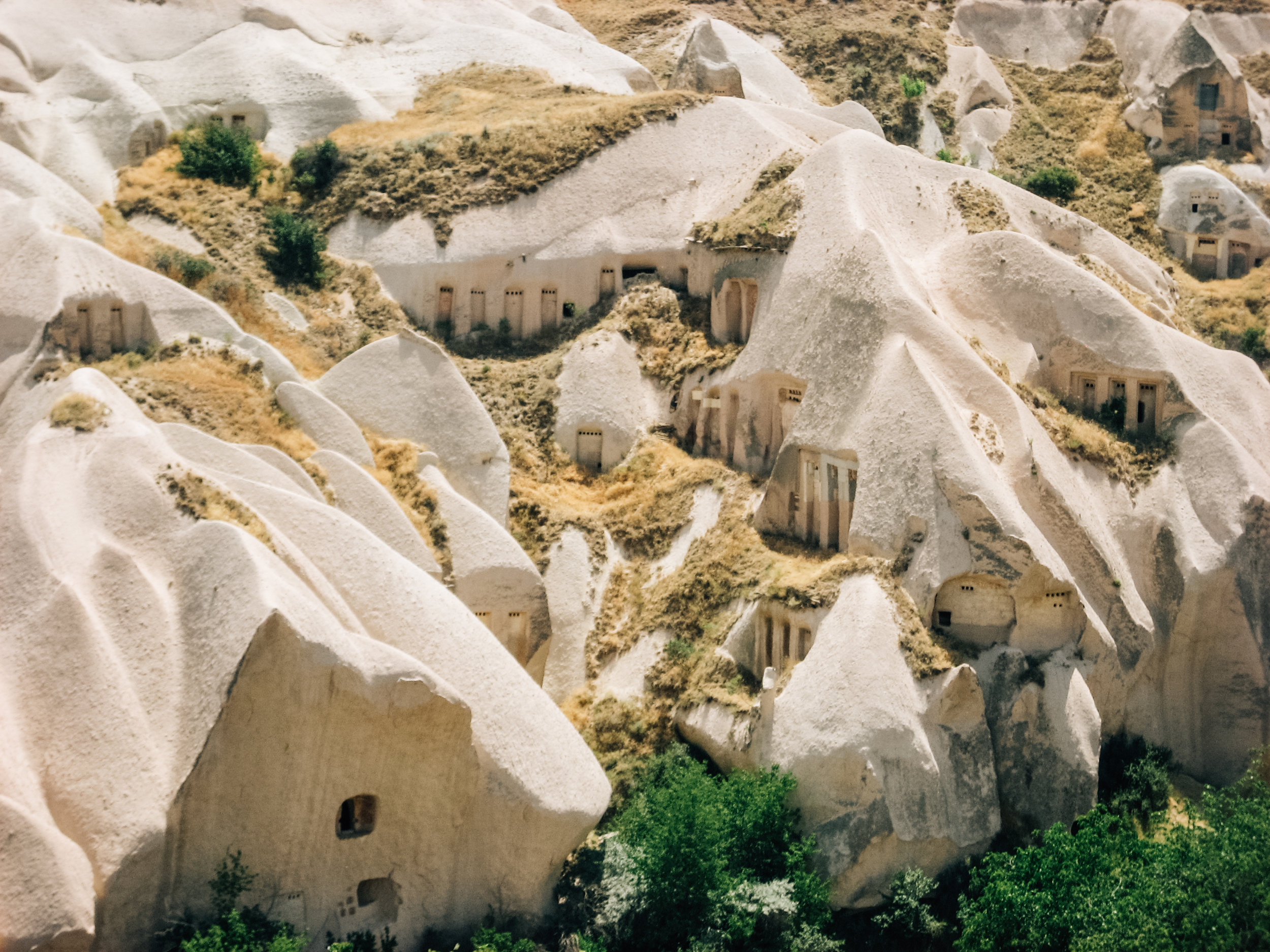 Nancy swerved the scooter towards a promising area of "historic significance." We instead found a plot of melons we trespassed into. These are the kinds of melons that start a bright yellow and turn a deep evergreen as they ripen. They're deliriously sweet and beg to be served with salty feta cheese. Sellers line up on the sides of the roads while eager urbanites returning home to the cities pick them up. This particular melon was too young.
Of the three or so days we were in Cappadocia, each day would start like this: a Turkish breakfast (salty, sweet, buckets of bitter tea, piles of bread, and the feeling like you never want to get up), putting on our helmets, picking one of a half dozen dots on the map to drive to, and leaving the pansiyon by mid-morning.
Trespassing became the ritual we practiced the moment we left for the day's journey. If not trespassing, we would try to convince the guard that we were local residents. This ruse would never work. We would turn the scooter off the main road the moment we saw something that caught our eye.
Nancy spotted it first, I think: a soft, weathered stone hill pierced with windows. The white rock looked liked dough and we wanted to sink our hands into it. Nancy went up first and I followed as we climbed up the formation and into the crevices that could be natural or the former lodging of some lost resident.
Except in this case, the lost resident was not a historic footnote. A few minutes into our exploration, two children came up to us waving and shouting in Turkish.
"You live here?" I said. Yes, they answered. It's part of their home. Nancy and I realized that we were trespassing for real this time. Or at least this time, we were caught. We started our way down from the rocks.
We didn't expect what happened next.
The two children invited us over for dinner. Covered in dust and dirt, we let our stomachs answer for us. We were inside their home as unexpected guests and we couldn't have been welcomed more warmly.
Nancy and I sat on the floor besides the low tables common in rural Turkey. Everyone else joined us on all sides. They spread cloth across the tables and our laps as they filled bowls with food and fresh bread. There were about eleven of us: a table full of kids, family members, a mother, and a father. I translated back and forth between gulps of water and mouthfuls of food.
We thanked them. They thanked us. We wended our way towards another town in Cappadocia. We wondered why maps and guidebooks never list a place like this.
It's for good reason, the same reason why the best trips start when you let go of your map.
Erol has been a designer, photographer, and maker for over 15 years. He's most often found next to a pot of hot tea whether it's in San Francisco, London, or Istanbul. Life is beautiful, and he hopes to capture and share as much of it as possible. Learn more about Erol on his site and wanderlust-inducing Instagram feed.