BECOMING A NOMAD
My first adventure began during the summer of 1988 in soviet Tallinn, Estonia.
Holding my mother's hand, I waited to board the big-winged metal bird that would carry me from my new home in the Baltics to my beloved birthplace of Almaty, Kazakhstan. I was five years old, my backpack was larger than I was and my eyes were filled with wonder. In 1988, the world was safe and this child was going to travel. My mother handed me off to the 'pretty stewardess lady', and I was on my way.
My adventure did not stop there.
Over the years, traveling became my companion, solace, and a coping mechanism of choice for overcoming adversity and challenge. If it was time for a new car, I traveled. If I had boyfriend problems, I traveled. If my life was in pieces, I traveled and picked up the pieces as I went along.
Years after that first trip, I joined my mother in the land of opportunities, the United States, and a fundamental shift had occurred, heralded by the purchase of my first car. This 1991 white Buick, a caravan of the streets, had no luxury upgrades such as air conditioning or rear transmission box. Still I, a sweaty, smiling seventeen-year-old, proudly drove it along Collins Avenue in Sunny Isles Beach, the Russian enclave of Miami.
I didn't always smile during my travel adventures. One day, in particular, is cut into my memory like a Norwegian fjord etched deep into an upland plateau. Eight months into my twenty-first year and four months after finishing military training, I was about to land in Afghanistan, terrified, as our C-130 took a nosedive directly above Bagram airbase to avoid the unfriendly fire. When I stepped off the plane and took the first breath of arid Afghani air, I stood in awe of the gray-haired Hindu Kush mountains hunched up above me. My beloved birthplace of Almaty, Kazakhstan, was three countries away.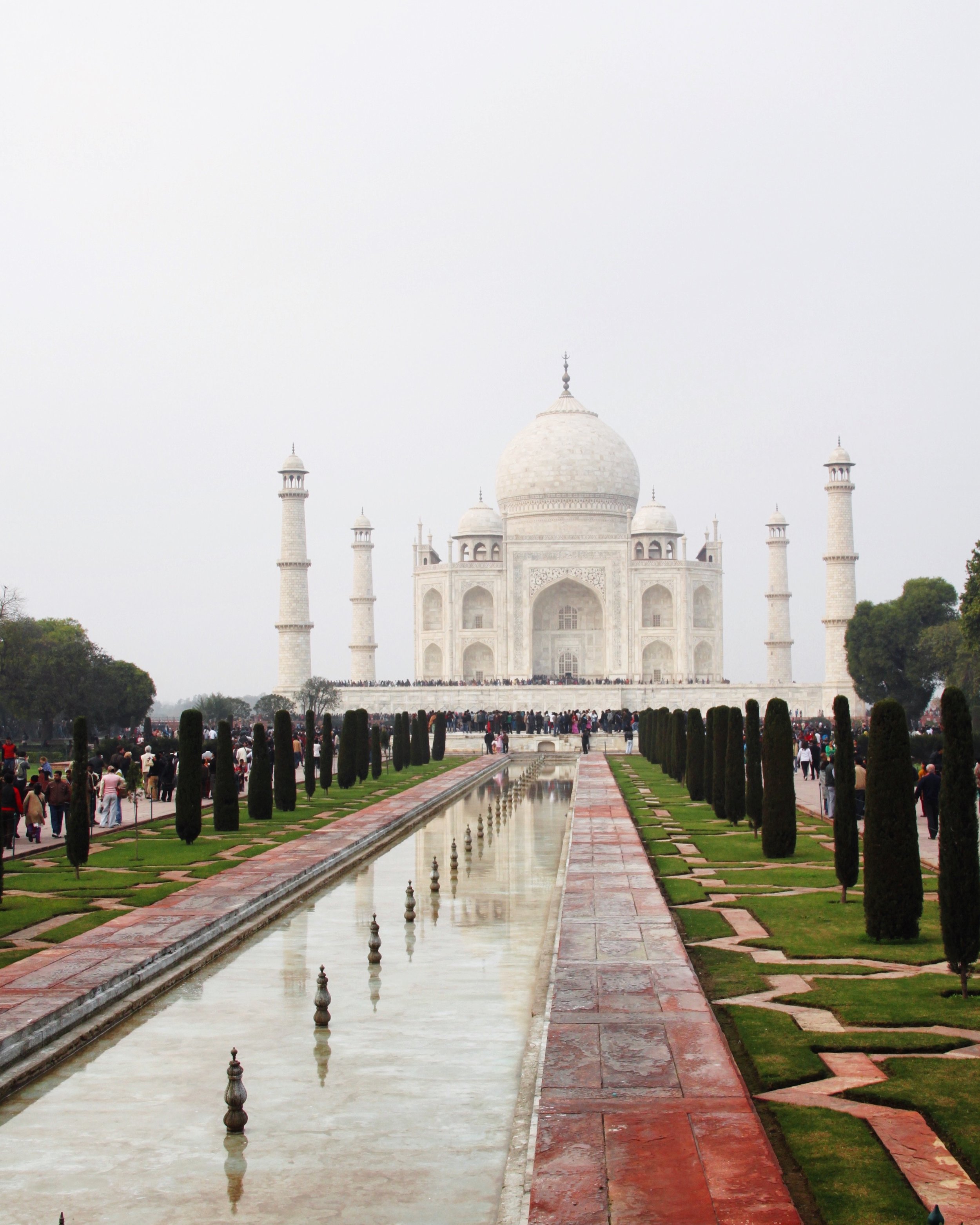 Six years after that touchdown,
I was standing in front of
Darwaza-i Rauza
—
the gate to the Taj Mahal —
trembling.
Traveling was awe-inspiring for me ever since.
Six years after that touchdown, I was standing in front of Darwaza-i Rauza — the gate to the Taj Mahal — trembling. The bleak winter sun shone on my hands absent-mindedly, distracted by its own reflection in the polished Rajasthani marble of intricate Persian motifs. Behind me, the sacred Yamuna flowed and her murky waters were calm in the afternoon glow. It was there, on the foggy, messy streets of Agra, India, that a seed of a new lifestyle was gently planted.
It took years for the seed to grow while I was becoming more aware of the subtle shifts in my mindset.
I followed a certain path — military, MBA, management — yet I increasingly dreamt of escaping the road I was on. Demoralized and burned-out, I found myself at the border of Hong Kong and mainland China on my thirtieth birthday as a deadpan officer handed me my well-worn American passport. Trekking through rural China, I spent some time with Eva and Ray, two Taiwanese travelers that moved to China in search of a more grounded lifestyle. I grew fortitude to start making changes in my own life from the twinkles in Eva's deep brown eyes while she prepared a daily pot of green tea on our unhurried mornings together.
Still, it took two more years for travel to become the dominant force in my life. On my last day at the office, I bade farewell to familiar faces and started a new adventure. The secret, I hypothesized, was to pursue the fire that burned deep within me and give it all I had while I had it.
Now, my backpack is larger than I am and my eyes are filled with wonder.
In 2018, the world is safe and this woman is going to travel. My fear, recently tamed, hands me off to hope, gumption and love and I am on my way.
Yulia is a founder of NOMⴷD + JULES and a freelance travel photographer and writer. She was born in Kazakhstan, grew up in Estonia, and now lives in the United States. Yulia has traveled the world extensively and turned to a travel journalism career after spending more than ten years in large organizations - first as a Navy Sailor, then as a brand manager at Fortune 500 companies. Yulia's work appears in Lonely Planet, Afar magazine, Turkish Airlines Skylife, and others. See more on her Website and Instagram.